In India, Diabetes is the leading cause of minor and major foot amputations. Prevalence of Diabetes is increasing day by day in India, becoming World's capital of Diabetes by 2025 with over 80 million affected population as per Diabetes Foundation India.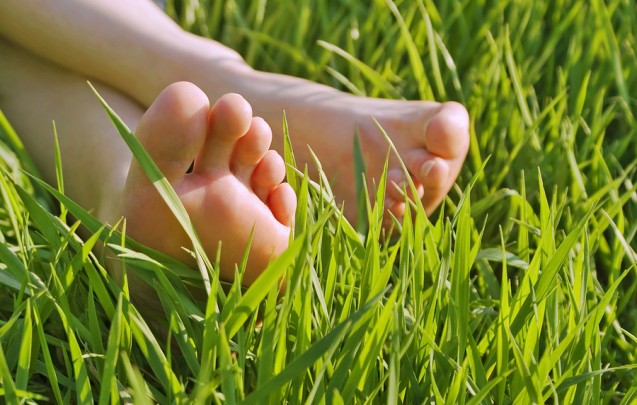 There are four main reasons which increase the chances of foot ulcer & amputation:
Decreased blood flow to feet – Diabetic individuals have more accelerated & diffuse atherosclerosis throughout all major & minor blood vessels which leads to narrowing of blood vessels and poor circulation in feet.
Neuropathy – Majority of long standing diabetic individuals suffer from sensory motor & autonomic neuropathy i.e. nerve damage. Loss of pain sensation exposes foot to repeated trauma & injury. Autonomic neuropathy causes lack of sweating in foot area making it dry & prone to cracks and infection.
Loss of Arc – Long standing diabetes patients has lost the normal foot arc. Majority has clawed toes or Hammer toes, forward displacement of fat cushion below 1st metatarsal head, some have rocker bottom deformity,  all this leading to abnormal weight bearing pressure points in foot (corns & callosities) and change of shape of foot. This abnormal shape foot doesn't fit properly in normal footwares, causing further injuries.
Slowed Delayed healing – In diabetes Neutrophil functions is impaired. Further more inter connected foot compartments easily pass infection from one area to other. Poor blood supply again delays healing.
To avoid all this complications, it is necessary to take care of your foot from the start.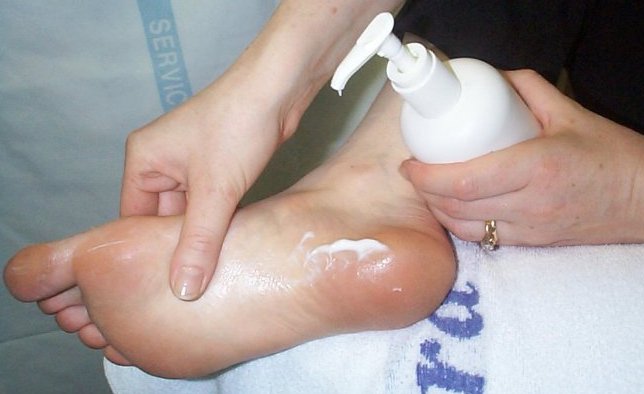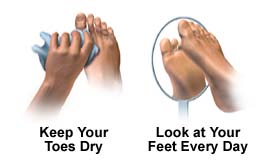 Following Diabetes Foot Care Tips will help you to keep your feet healthy :
Keep Your Blood Sugar in Target Range – HbA1c < 7
Do not walk bare foot even at home – Keep two separate pairs of footware for home & outdoors.
Inspect your feet everyday for blisters, cuts, redness, swelling, dryness, ingrown toenails, corns & callosities- use mirror to see bottom of foot.
Use special diabetes footware. Prefer using Ketto type sandels & shoes instead of slippers.
Wash your feet daily with warm water & mild soaps – check & confirm temperature of water with elbow before inserting feet into it. After washing, dry them thoroughly , even inter digit space.
Apply moisturizers on feet & lower leg to avoid dryness of skin – don't apply between toes.
Cut toe nails carefully after bath when they are soft – avoid cutting cuticle & digging under toenails with sharp objects.
Use cotton or wool socks – change them daily, avoid too tight socks.
Wear properly fitting shoes with ample of cushioning. It is preferable to use leather shoes than synthetic material.
Always inspect your shoes or footwear for objects like metal pins, coins etc before wearing it.
Be physically more active – it increases blood supply to feet.
Do not cross legs for longer period while sitting, In spare free time move your feet up & down and rotate at ankle joint.
Quit smoking.
If you see cuts, corns, callosities, redness, blackening or delayed healing in minor cuts seek medical attention or consult your diabetes doctor immediately. Routine foot care & prompt attention to injuries can prevent foot problems from threatening your life and amputations.
If you found this article useful, please share it with your friends & family. I appreciate the feedback and encouragement.
Awareness is Prevention.